The International Association of Supreme Administrative Jurisdictions currently comprises 62 members.
Membership is open to any court having standing to give final judgement in disputes arising out of administrative activities.

Any court wishing to join the Association should apply to the Secretary General, Mrs Martine de Boisdeffre, by sending a letter to the Secretariat. The applicant court must state its competence in administrative matters.
Applications for membership are examined by the Board, which meets every 18 months.
Member courts pay an annual membership fee.

Courts may also have the status of observer: they may attend the Association's events but they do not take part in the meetings of the statutory bodies or in the magistrate's exchange programme. They are exempt of paying a membership fee.
---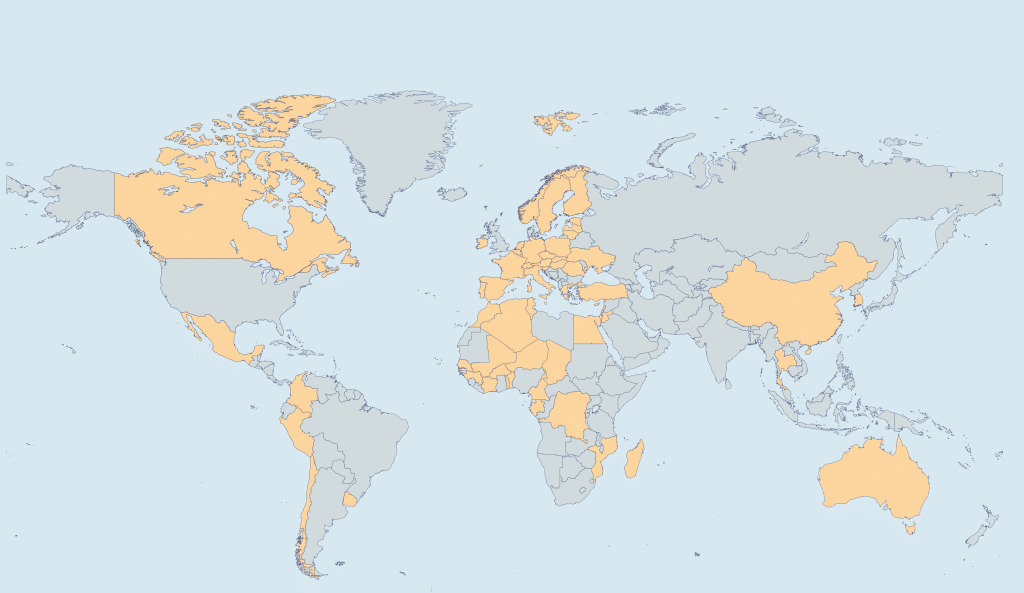 Members of the Association
Algeria
Council of State
President: Mr Mohammed Bennaceur


Australia
Administrative Appeals Tribunal
Chief Justice: Mrs Fiona Meagher
Federal Court
Chief Justice: Mr James Allsop


Austria
Supreme Administrative Court
President: Dr. Rudolf Thienel


Belgium
Council of State
First Président: Mr Wilfried Van Vaerenbergh

Benin
Supreme Court
President: Mr Victor Dassi Adossou


Burkina Faso
Council of State
First President: Mr Souleymane Coulibaly


Cameroon
Supreme Court
First President: Mr Daniel Mekobe Sone


Canada
Supreme Court
Chief Justice: Mr Richard Wagner


Cape Verde
Supreme Tribunal of Justice
President: Mr Arlindo Almeida Medina


Chad
Supreme Court
First President: Mr Samir Adam Annour


Chile
Supreme Court
President: Mr Juan Eduardo Fuentes Belmar


China
Supreme People's Court
President: Mr Zhou Qiang


Colombia
Council of State
President: Mr Carlos Enrique Moreno Rubio


Cyprus
Supreme Court
Chief Justice: Mr Antonis R Liatsos


Czech Republic
Supreme Administrative Court
President: Mr Karel Šimka


Democratic Republic of Congo
Council of State
First President: Mrs Marthe Odio Nonde


Egypt
Council of State
President: Mr Adel Azab


Estonia
Supreme Court
President: Mr Villu Kõve


European Union
Court of Justice of European Union
President: Mr Koen Lenaerts


Finland
Supreme Administrative Court
President: Mr Kari Kuusiniemi


France
Council of State
Vice-President: Mr Didier-Roland Tabuteau


Gabon
Council of State
President: Mr Jean-Paul Komanda


Germany
Federal Administrative Court
President: Mr Andreas Korbmacher


Greece
Council of State
President: Mrs Evangelia Nika


Guinea
Supreme Court
President: Mr Fodé Bangoura


Hungary
Kuria
President: Dr Andràs Zsolt Varga


Israel
Supreme Court
Chief Justice: Mrs Esther Hayut


Italy
Council of State
President: Mr Luigi Mariotti


Ivory Coast
Supreme Court
President: Mr Patrice Yao Kouakou


Jordan
High Administrative Court
President: Mr Mohammed Al Ghazo


Latvia
Supreme Court
Chief Justice: Mr Aigars Strupišs
Lebanon
Council of State
President: Mr Fadi Elias


Lithuania
Supreme Administrative Court
President: Mrs Skirgailė Žalimienė


Luxemburg
Administrative Court
President: Mr Francis Delaporte


Madagascar
Council of State of the Supreme Court
President: Mr Max Ramilison


Mali
Supreme Court
President: Dr. Fatoma Théra


Malta
Constitutional Court
Chief Justice: Mr Mark Chetcuti


Morocco
Cassation Court
First President: Mr M'hammed Abdennabaoui


Mexico
Federal Tribunal of Administrative Justice
President: Mr Guillermo Valls Esponda


Monaco
Supreme Tribunal
President: Mr Didier Linotte


Mozambique
Administrative Tribunal
President: Mrs Lucia do Amaral


Niger
Council of State
First President: Mr Nouhou Hamani Mounkaïla


Norway
Supreme Court
Chief Justice: Mrs Toril Øie


Netherlands
Council of State
Vice-President: Mr Thom de Graaf


Peru
Supreme Court of Justice
President: Mrs Elvia Barrios Alvarado


Poland
Supreme Administrative Court
President: Mr Jacek Chlebny


Portugal
Supreme Administrative Tribunal
President: Mrs Dulce Manuel da Conceição Neto


Republic of Ireland
Supreme Court
Chief Justice: Mr Donal O'Donnell


Republic of Korea
Supreme Court
Chief Justice: Mr KIM Myeongsu


Romania
High Court of Cassation and Justice
Presidente: Mrs Corina-Alina Corbu


Senegal
Supreme Court
President: Mr Cheick Ahmed Tidiane Coulibaly


Slovakia
Supreme Administrative Court
President: Dr. Pavol NAĎ


Slovenia
Supreme Court
President: Dr Miodrag Đorđević


Spain
Supreme Tribunal
President: Mr Francisco Marín Castán


Sweden
Supreme Administrative Court
President: Mrs Helena Jäderblom


Switzerland
Federal Tribunal
President: Mr Yves Donzallaz


Thailand
Supreme Administrative Court
President: Mr Vorapot Visrutpich


Togo
Supreme Court
President: Mr Yaya Bawa Abdoulaye


Tunisia
Administrative Tribunal
First President: Mr Abdessalem Mehdi Grissiaa


Türkiye
Council of State
President: Mr Zeki Yigit


Ukraine
Supreme Court
President: Mr Vsevolod Kniaziev


Uruguay
Administrative Litigation Tribunal
President: Dr. Eduardo José Vasquez Cruz